Weekly Market Walk – 27th March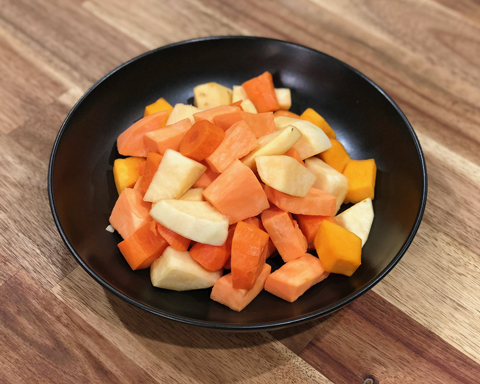 Roast Veg Mix
This mix is far more versatile than its name would suggest. With carrot, swede, sweet potato & pumpkin, it works great in stews or even as a tasty alternative to pumpkin soup.  
Tasmanian Garlic
The presence of Australian grown garlic in the markets is still really strong, and there isn't much better than this sweet almost spicy purple garlic.

Purple Eggplant
Eggplant supply and quality has been amazing this year, and the amount of varieties is enough to give you option paralysis!  But the pick of the week is definitely this stunning purple variety. Great for pickling as they retain their colour.

Kanzi Apples
This is a newer variety from Batlow. They been specially grown and graded. What this gives you is great flavour and crispness, but also a syrupy sweet juiciness. A must try.

Pomegranate
We're seeing a lot of great Australian stock this year, with seeds that are both colourful and sweet. Grown in the far south west of NSW. It's great to see our farmers crops getting better and better every year.

Green Cabbage – $2.20 ea
Densely packed and super crunchy. These large cabbage are a bargain at this price.